The perfect baby shower gift!
With the stylish Baby Towel, you're not just giving a towel, you're giving a safe, warm bathing ritual to parent and child!

100% organic cotton


Made from the softest materials


Fun and easy bath moments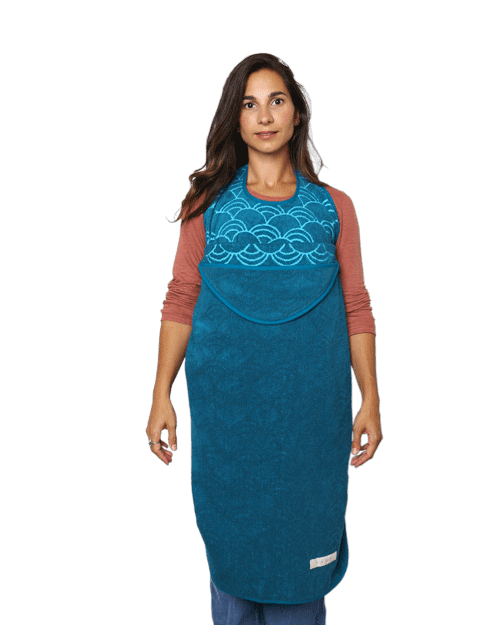 Baby Towel Green Pastel

€

49,95

For babies from 0-2

Add to cart

Baby Towel Vintage Pink

€

49,95

For babies from 0-2

Add to cart

The baby towel

The Palais de l'eau baby towel is designed to feel like a warm embrace after a bath. The baby towel keeps you dry while you bathe your baby. It makes bathing fun and easy rather than a hassle. Our baby towel is an ideal baby shower gift for every (new) parent. Super soft and 100% organic. Only fun and love. Happy bathing!

An ideal present for somebody else!

We have spoken to a lot of parents over the years and many of them encounter the same challenge during bathing their little one: putting your baby in bath should be a magical and relaxing moment… why do we often rush it after:

We have soaked ourselves because of our infant splashing around
The baby starts to turn and cry and we find ourselves in awkward positions with a towel jammed between our chin and shoulder
Or, worst-case scenario, you forgot to layout your baby towel and/or see it slipping from your grasp to the floor in a slow-motion like manner where it is now sucking up water

This is why a lot of parents choose to hold off washing their infant until someone else is around the house to help out in case of an emergency. Recognizable? 😉 Our hooded baby towel is a very useful gift. Not only because it is a beautiful, large and soft baby bath towel but also because it is very practical and sustainable. And simply because the baby cape makes your day with your little one a little bit brighter!

We have released our baby towel in different editions in order to tailor it to everyone's taste. Check out the seven colors now to see if there's one that can serve as a unique baby shower gift.

Super-soft

Made from the softest material.

100% organic

Good for the earth, good for your kid.

Easy to use

Make every water-moment fun.

Our baby towel is made by hand in Portugal

We are extremely happy with our Portuguese fabrics producer as their way of producing is totally aligned with Palais de l'eau's ideals. The required water to produce our hooded baby towel is filtered and reused and the used energy is generated by solar panels. We want to produce our collection, such as the baby cape, in a way that we leave behind a clean world for the next generation. This is why we set the bar so high. We use organic cotton for all our products and we, in 2020, introduced a collection for which we recycled pre-loved jeans in combination with Tencel to create unique yarns. The most sustainable baby towel (from the recycled denim collection) is the result. In this way, we leave footsteps in the sand, not on our planet!

100% Certified

The hooded baby towel by Palais de l'eau is GOTS certified. This signifies that our organic cotton meets the standards set by the Global Organic Textile Standard (GOTS). Organic cotton as a material has many advantages. It isn't only softer but also free of chemicals and produced in a sustainable way. But the certificate stands for more than a sustainable production chain. Your entire production chain must also be fair, which means that it is free from child labor, discrimination, excessive working hours and is safe. In this way, we guarantee that the baby bath towel is really responsible.

This is how the baby cape 'works'

Using your organic cotton baby towel, it's childs play!

Start by attaching the baby towel around your neck using the practical push button
Bathe your baby. This will be a nice, relaxing experience for you both as you won't get soaked wet yourself. Also, you will have both your hands free because of the baby cape to hold your infant in a relaxed and safe manner.
Is bathing time over? Take your little one out of the bath and keep it safe and dry against you. Now gently put the hood of the baby towel over your babies' head. There you go, wrapped up all nice and comfy in your arms
Now dry your baby. When your newly born is dry, you can remove the baby bath towel from your neck and put your little one down, nice and relaxed and happy from the bathing ritual. By the way, the hooded baby towel is so big that it completely covers children up to 4 years old (yes, we speak from our own experience)!
Enjoy!

Baby Towels with Carolien Spoor

We recently introduced a new collection in collaboration with Carolien Spoor. Our Baby towels are released in two beautiful prints, Sunrise Orange and Minty Green. when you purchase a Carolien Spoor Baby Towel and/or Todder Cape, you will receive an extra washcloth. We charge € 2.55 extra for this and all of the proceeds will go to the LINDA. foundation. Because all families could use a little extra love!